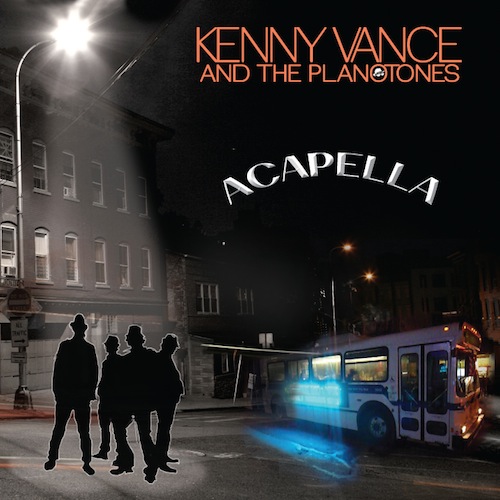 A couple years back, when I interviewed Donald Fagen for his Dukes of September tour — he, Boz Scaggs and Michael McDonald took turns singing favorite oldies — I asked if he might be doing any Jay & the Americans songs.
It was kind of a cheeky question. While Fagen and Walter Becker got their start arranging horn and string parts for Jay & the Americans, they went in a vastly different — most would say more sophisticated — musical direction with Steely Dan.
While Fagen said he would not, he also advised me to take a good listen to the work of Kenny Vance, one of Jay & the Americans' founders. "He's done some interesting stuff," he said. (Vance had first hired the two, thus giving them their start.)
That was good advice. Since Jay & the Americans, the New York-based Vance — who is now 69 — has been searching for the dreamy romantic honesty, the origins, behind the schmaltz of the late-1960s pop vocal groups. While not a big name to the public, he has held varied, interesting music jobs. He booked bands during "Saturday Night Live's" early years, even appearing once as the musical guest. and wrote the music (and provided Armand Assante's singing voice) for the 1999 movie about a singing group, Looking for an Echo.
And he put together the Planotones to revive the unadorned harmonies and delicate, almost-ghostly vocals of 1950s-era urban, street-corner doo-wop music. He's carved out a niche career doing so, the highlight of which has been his lovely modern doo-wop song "Looking for an Echo." But "Acapella" deserves to bring him wider attention
Vocal pop music today, in the wake of Whitney Houston, Mariah Carey and Celine Dion, is a vastly different beast from doo-wop. Derived from both gospel and rock and soul power-ballad singing, its mission is to impress us into submission with its extended, heavy-duty locomotive-breath swoops and sustains. But when the singer is forcing it, as many do, it's often exhausting and charmless.
So reviving comparatively gentle a capella doo-wop is clearly an offbeat, against-the-grain project, just as it was when the Belmonts released their now-classic throwback "Cigars Acapella Candy" album in 1972.
Yet just like that Belmonts' record, this proves that a capella doo-wop is timeless. Vance and Planotones' music director and vocal arranger Johnny Gale share the lead parts. (Gale produced, arranged and mixed the disc.) Their voices glide and caress the material airily, if not quite with total youthful élan then still mercifully without any of the raggedness that can challenge older vocal harmony groups.
Vance's falsetto parts are exceptionally pure, be they harmony ("Mio Amore") or lead ("Twilight"). The other Planotones, all of whom sound sensitively in tune, are Chip Degaard, Tony Galino, Jimmy Bense and Kurt "Frenchy" Yahjian.
Aaron Neville also has released a recent tribute to older vocal music, "My True Story." It's neither a capella nor pure doo wop, covering as it does a lot of the earlier, harder-edged and more adult-oriented and arranged R&B of the 1950s and 1960s, like "Money Honey," "Ruby Baby," "This Magic Moment," "Work With Me Annie" and more.
Fine songs those, but this is the deeper and more emotional musical experience. It explores the innocence at the heart of classic doo wop, without succumbing to a post-modern dissection of it. That's hard to do, like bouncing on a spider web, and it's amazing how well Vance's Planotones pull it off. Not just the singing parts, but the way they supply stomping percussion (the Stereos' "I Really Love You") and finger-snapping (the Cadillacs' "Zoom").
The ballads and mid-tempo tunes are sublime, like "Twilight" (originally by the Paragons), "Jeannie" (the Unique Teens), "Diamonds and Pearls" (the Paradons) and "Please Be My Love Tonight" (the Charades).
Each of those groups' names is, indeed, a diamond or a pearl – like a little imagist poem or haiku. And that brings up my one complaint. This record, like Vance's recent Christmas CD, is self-released and presumably done on a tight budget. While the liner notes are sufficient, listing the songs and writers, they don't mention the songs' histories, or why Vance chose them. If you like the music, you'll long for that while you're listening.
But what sweet listening it is.
Kenny Vance and the Planotones
Acapella
LaPlano Records (www.KennyVance.com)
This first appeared on www.blurt-online.com. For other writings by Steven Rosen, visit www.stevenrosenwriter.wordpress.com.